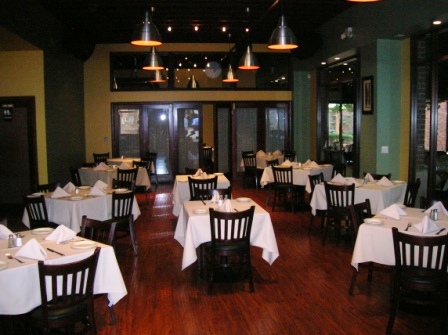 In the heart of Glendale is a quaint bistro called Notte Luna. An exquisite
experience

awaits the discriminating diner. First impressions are everything.
The Staff fulfilled my every expectation of
knowledge and first class service. An eye
for detail and skillful presentations
please as well as surprise. No only can they offer goo italian dining, Notte Luna also provides a complement of great Mediterranean dishes and delicacies too.
The owner is justifiably proud of their seafood selections. They spare no expense to provide the freshest fish, shrimp and shellfish. Along with an abundance of appetizers, salads, and mouth watering creations, the best cuts of fresh poultry, shrimp or seafood enhance the entire menu.
My favorites include fine pasta dishes, with a highlight on their legendary Salmon options. The Pescatora provides the guest with tender salmon and a delicious medley of clam, mussels,
shrimp and calamari. Other favorites are The Fettuccini Con Gamberi with tiger shrimp in an
alfredo sauce and Petto di PolIo - chicken breast with a lemon sauce
The house wines by

LA Playa

, from a select Chilean vineyard, are superb complements to
the menu.
The most popular white and red wines are sure to please. The Chianti, was from the Italian winery,

Pointe Vecchio

. In additions to eighteen gourmet thin crust pizza creations, the Secondi (second courses), are memorable, with selections of Chicken, steak, and Veal.
Note Luna offers a private dining space for about thirty people. This is

not

the typical
banquet room experience, but a classy, clean, and secluded room perfect for private parties.
For bigger events, the entire restaurant may be reserved and catered. Please see staff for
more details. Their full bar is perfect for those special events.
Two Guitarists play for restaurant patrons every Saturday.
Notte Luna is a unique pleasure and culinary adventure waiting to be explored. They are located inside the Exchange, in the southern courtyard. Address is 113 N. Maryland Ave, Glendale 91206. Their phone number is 818-552-4100. You can enter from Maryland(a cobblestone and tree lined avenue just east of Brand Boulevard). There is convenient and abundant parking in the west side driveway, just north of Broadway.
Review by Gary Justice
~~~~~~~~~~~~~~~