Order a CD: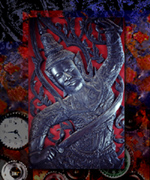 A weird and hard to find album from 1998 by this thoughtful US singer songwriter/poet/beatnik. Mainly acoustic music - with flutes, bongos, chimes and electric and acoustic guitar - it features ,mystical trippy lyrics and a suitably laid back vibe throughout. A late night album if there ever was one!

Freak Emporium-Delerium Records UK


Call for info or send email
garyjustice@earthlink.net
Phone: 818-989-1885

$15 plus $1 Shipping in the US,
$4 shipping overseas

Release of DJ mixes T.B.A..........